| | |
| --- | --- |
| 10 December 2013 | Cleaning The Living Room Will Freshen Up Your Life |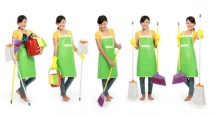 If you are someone who spends a fair amount of time in their living room, then you can be assured that cleaning it will make your life a lot more pleasant. Dust tends to be made up of 80% human skin, and can carry airborne allergens. This means that there is no question that cleaning your living room is as much about health as it is the way that the place looks. You will find that cleaning the living room can take some specific techniques as well; there is a varying range of materials that can be found in the living room, from carpets to wood floors, upholstery, stone and brickwork. You need to know exactly how to clean the various aspects of your house well, so that nothing goes untreated for any long period of time. Have a look over the following ways of making things a little easier and quicker.
In many ways, the heart of a comfy living room is often the carpet. Whether you have wall to wall or a Persian rug, you still need to clean it to keep the room feeling vibrant and fresh. Carpets pick up a lot of dirt, and can be transformed by cleaning, even if you had not realized that the pile was mucky! Home shampooing is the cheapest way of doing things, but you need to be very careful as to what kind of carpet you can use such products on. An antique rug may well be damaged by the chemicals, so you need to research the compounds that you are using, and ensure that nothing will be damaged. The same goes for hot water extraction as well as dry cleaning. You should be absolutely sure that there is no chance of things getting ruined, as this can spell disaster, and be extremely expensive. Have a look over your options and work out which technique is the best for your needs and budget. If in doubt, ask a professional.
If you have a wooden floor, the appearance can be greatly affected by scratches in the grain. On a dark wood floor, the scratches will usually cut through the stain in the wood, making the lighter wood show through. This is very obvious and makes it look a bit rubbish, so try staining it back with a little instant coffee; make a strong espresso and bad the scratch with the cooled drink, the wood will soak up the color. You can then buff the section of flooring clean. A little lemon and olive oil will make a fantastic polish for any wood. The lemon will cut through any grime, and the olive oil will give the wood an attractive sheen!
If you have pets or a smoker in the house, then keeping the room smelling great can be difficult. You will find that there are many natural deodorizers, which can be sprinkled about the room, or just left in bowls. Boiling water and a fair bit of vinegar in a bowl over night will remove the smell from any room, and will even work on clothes if they are left in that room! You will also find that baking soda can be sprinkled around the floor before hoovering to get rid of the smell. The same goes for upholstery, which can be rubbed with baking soda, and hoovered off with the vacuum attachment.
The living room is put through its paces by the whole family, so take the time to think about how you clean it and ensure that you give it the attention that it needs!