| | |
| --- | --- |
| 12 March 2014 | Are You Moving House? Here Are Some Top Tips For Your End Of Tenancy Clean |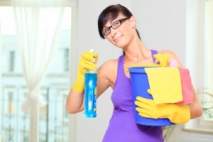 When you're planning to move into a new home then there are lots of things for you to worry about. From the financial aspects of moving to the physical, there's no end to the hassle and stress that moving can cause to you and your family! Your end of tenancy clean is just another thing for you to panic about, but there really is no reason too! Although it might seem like just another thing that you don't want to deal with, there are lots of ways in which you can prepare your house for your landlord. Here are just a few hints, tips and tricks to get your end of tenancy clean off to the best start!
1) Timing.
One of the most worrying things about your end of tenancy clean is the timing. You need to make sure that you can get into every nook and cranny of your house to ensure that it's thoroughly clean, but this is next to impossible when your house is still full of boxes, bags and storage bins! Try to arrange for your furniture and boxes to be moved into your new home with enough time for you to clean your old property. This might mean you move into your new home a few days before your old tenancy runs out, or you might be able to work something out with your landlord. Your end of tenancy clean requires a lot of forward thinking and planning, so get organising right away to avoid stress and hassle!
2) Enlist help.
Whether you're calling in favours from family members or from friends, if you're lucky enough to have people to help you with your end of tenancy clean then this is definitely something to take advantage of! The aim of your end of tenancy clean is to do a thorough job in as little time as possible, so the more hands on deck the better the process will be!
3) Make a list.
Don't just dive into your end of tenancy cleaning as you're likely to forget certain jobs! Make a list of all of the rooms in your home and write down what jobs need doing. This will help to keep you on track and stop you wasting precious time on cleaning day! If you have people on-hand to help you then why not assign each person a room to make the job both faster and easier?
4) Speak to your landlord.
Before you begin cleaning make sure you've spoken to your landlord about what it is they expect from their end of tenancy clean. Is the property being renovated? If your landlord is planning on wallpapering, replacing appliances or fitting new carpets then there isn't much point in you slaving away over cleaning them! Maintain open communications with your landlord so you know just what it is they expect from you. This could save you time and effort, and this will also make everything a lot easier when you try to claim back your deposit!
5) Don't leave everything until the last minute.
If you plan your end of tenancy clean then there should be very little to worry about. Make sure you have all of the equipment you need, and don't forget to clean inside any appliances and behind any furniture too! Give yourself lots of time to get the job done so you can avoid any unwanted and stressful situations!
You may also like: